On December 11th 2020, Ethical Consumer publish their third report examining the sports optics industry:
Shooting Wildlife III: Who makes your binoculars, spotting scopes and optics?
An updated report by Ethical Consumer Research Association (ECRA), December 2020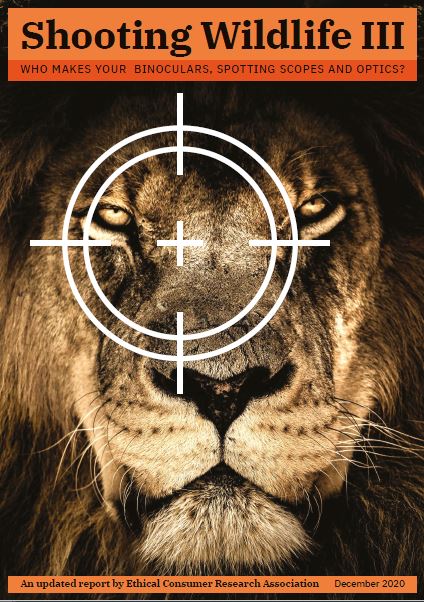 This report follows on from publications in 2016 and 2018, which analysed 30 sports optics companies primarily on their relationship with the sports hunting industry, including big game and trophy hunting. The most recent report, due out this week week, will also investigate the environmental credentials and military and pro-gun rights links of these companies, as well as revisiting their position on hunting. Included in the 30 companies are brands popular in the UK wildlife watching scene, including Swarvoski, Zeiss, Leica, Opticron, Canon, Olympus, Nikon, Hawke, Viking and Kowa, amongst others.
Headlines from the report are:
90% of companies reviewed have some connection to hunting, compared to 83% in the 2018 report: Opticron, Canon and Olympus are the only companies reviewed that could not be linked to hunting, with a further six showing weak links.
48% of companies reviewed have additional ties to hunting through pro-staff hunters, sponsorship of hunting organisations, TV shows or events, or through their own 'academies' for teaching skills for hunting (45% in 2018).
Two companies (Carson and Fujifilm) had removed their riflescopes from their website, and Nikon had announced it was ending its production of riflescopes. Although this is an encouraging development, riflescopes for all three companies are still for sale.
69% of companies were found to supply optics or other imaging equipment to the military directly and/or market their optic products for military or tactical use.
28% of companies were found to have industry links with the National Rifle Association, while 10% were deeply embedded in the world of "hunting, shooting, public lands, the second amendment and good food". One company was also found to use imagery related to militia and white supremacy in its marketing.
83% of companies were considered to have poor environmental and carbon management and reporting.
You can download and read the full report here.
See how your preferred brand stacks up on p15 of the report.
All of this information has now been consolidated into one website: crueltyfreeoptics.co.uk/
The website provides a one-stop for existing and potential consumers, explaining the issues surrounding the sports optics industry and offering advice for buyers based on their own ethical views. This includes looking in more detail at some challenging subjects, including trophy hunting, animal rights, illegal practices within the shooting industry (like bird of prey persecution), military links and the pro-gun movement, and environmental credentials. The aim is to provide shoppers with transparent information that can aid their buyer choices if they wish.
Can you take part in the discussion?
We hope that, as in previous years, the publication of the Ethical Consumer report will provoke thought and discussion around this subject, raising questions about the ethics of many household sports optics brands:
Are these issues well known and understood by buyers?
How can optics companies demonstrate their commitment to being ethical?
Can and should companies use their influence to distance themselves from bad practice?
Do young people have the power to change buying habits?
Are young people more sensitive to company ethics, and will this drive change in the industry?
Should pro-wildlife charities and organisations accept sponsorship and donations from organisations that support hunting or have military links?
How do we ensure transparent and open discussion around these issues, when many of the big optics companies have so much influence on marketing and advertising?
How can you help?
Be part of the discussion
Can you write or host a blog, podcast or discussion on this topic, to be published on or after the 11th December 2020? This could be your own thoughts and reflections on this topic, or a guest contribution by one of our team.
Can you share the report and a link to our website on your social media channels, perhaps with your own thoughts and reflections?
We will be running a Live Discussion (provisionally on December 16th) looking at some of these issues, with a range of speakers from different backgrounds and hosted by Lucy McRobert. Can you attend and promote this to your followers (link and speakers to follow)?
We will also be publishing an unbiased survey in the New Year to understand the consumer habits of wildlife watchers. Can you share this amongst your contacts? We will be sharing the results and using it to understand consumer habits.
Make the change
If you've been moved by the issues raised in the report, would you consider switching brands next time you're purchasing optics?
If you're sponsored by a brand that encourages hunting, would you consider ending that sponsorship?
Can you contact your optics supplier and ask for a position on the issues that mean the most to you, whether that's trophy hunting, illegal practices in sports hunting or their environmental credentials?
Can you share this with your followers if you are thinking of doing so?